Justice for Melanie and Beau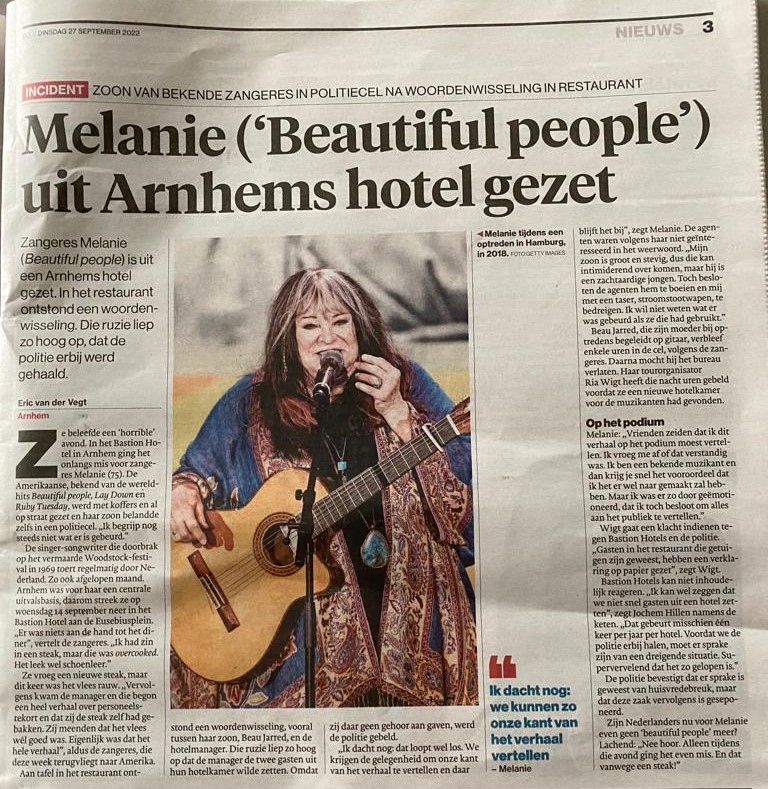 On the evening of September 14, 2022, Melanie, the world-renowned singer, and her son, concert guitarist and musical accompanist Beau Jarred were treated unfairly by Sabine de Veer-Peters, the manager of hotel Bastion in Arnhem. For addressing, the poor cooking of dinner the hotel manager asked them to leave the hotel and called the police.
The first two police that came into Melanie's room expected the seventy-five-year-old singer to leave her room within five minutes. When this failed these police acted with a heavy hand and Melanie's son who was non-aggressively trying to explain the situation was painfully handcuffed to the point where they inflicted nerve damage to his left hand. Then he was arrested and put in solitary confinement. We strongly protest this state of affairs and ask the police to handle the officers that first came into the room, and we ask the hotel manager for an explanation so that this doesn't happen again or to anyone else. Because of obvious reasons and witnesses, all charges on Melanie & Beau were dropped entirely. Beau's hand is still gravely injured and it's affecting his work. If you feel inclined, please email, phone or write to the hotel and police station in Arnhem to voice your concerns about unwarranted treatment…

Bastion Hotel Arnhem:
+31 30 2671616

info@bastionhotels.nl In subject area please add: attention Bastion in Arnhem.
Fax Police Arnhem
026 352 4388
Postadres
Postbus 618
7300 AP Apeldoorn

The next day they played in front of an audience of 850 people in Alkmaar.