Save the Hamilton Tiger from euthanasia.
While it is a very sad day for the family of the keeper who has died in Hamilton, NZ.
I do not want to see an innocent animal put to death because the keeper did not follow procedures and take all necessary precautions before entering the enclosure of a wild animal.
I feel this accident was caused by over familiarity, and is not the animals fault, therefore the tiger should not be euthanized.
Please sign this portion to save the Hamilton zoo Tiger.
http://i.stuff.co.nz/national/72226055/Tiger-kills-keeper-at-Hamilton-Zoo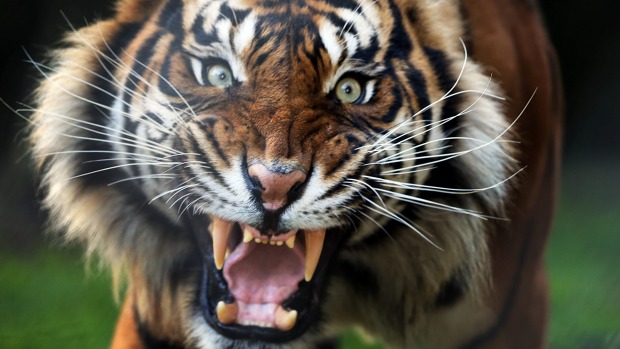 Announcement from the administrator of this website

We have closed this petition and anonymized the personal information of the signatories.

European Union's General Data Protection Regulation (GDPR) requires a legitimate reason for storing personal information and that the information be stored for the shortest time possible.
---
Is there something you want to change?
Change doesn't happen by staying silent. The author of this petition stood up and took action. Will you do the same? Start a social movement by creating a petition.
Start a petition of your own
Most popular petitions this year
MBIE have determined that golf course turf maintenance is not an essential service during the Covid-19 lockdown period. If critical parts of any golf course (namely putting greens) do not receive basic maintenance over the shutdown period, the task of restoring the greens to required standards/conditions may not be achievable or affordable for many golf clubs. The long term financial impacts for these clubs, and consequently for the many NZ'ers who enjoy the game, will be far reaching.   Please
Created: 2020-04-08
| Time period | All countries | New Zealand |
| --- | --- | --- |
| All time | 3658 | 3603 |
| 2021 | 3658 | 3603 |
I have started this petition which will be presented to the Minister for Local Government. The Mayor and several councillors have pushed through policies  with little or no public consultation,the latest being the change of speed to 10kmh in the CBD .This was done by the Mayor using the Covid 19 argument it will be better for the public and reduce the risk of infection . This happened within a matter of days and the signs were already printed before the vote at council was done. This was also do
Created: 2020-05-17
| Time period | All countries | New Zealand |
| --- | --- | --- |
| All time | 2131 | 2119 |
| 2021 | 2130 | 2119 |
COVID-19 shut down our sale yards but now we desperately need to have these re-opened, particularly in areas like Hawke's Bay where severe drought is having a major impact. Hawke's Bay farmers are currently facing what may be the worst drought in history, and the situation is compounded by the loss of the sale yards - an avenue of selling that the majority of farmers know well and have ultilised in the past. Other regions are also under significant feed pressure and would benefit from sale yards
Created: 2020-05-02
| Time period | All countries | New Zealand |
| --- | --- | --- |
| All time | 461 | 459 |
| 2021 | 461 | 459 |
We the residents of Ngunguru and the Tutukaka Coast petition the Whangarei District Council and Roading NZ to develop and establish pedestrian zebra crossings at 1983 Ngunguru Road as well as at the intersection of Ngunguru Road and Shoebridge Crescent.  These two crossing points already receive a large amount of pedestrian traffic, particularly at the start and end of the primary school day and require signage and a pedestrian right of way for the safety of our children and community members. A
Created: 2020-07-30
| Time period | All countries | New Zealand |
| --- | --- | --- |
| All time | 287 | 283 |
| 2021 | 287 | 283 |
This petition is to show support for the naming of the NorthConnex Tunnel after Jim Adams who lost his life during the construction of the tunnel on May 23rd 2017. To name this tunnel after a well respected man is a small token of appreciation for both the memory of Jim and his family.
Created: 2020-03-30
| Time period | All countries | New Zealand |
| --- | --- | --- |
| All time | 1226 | 265 |
| 2021 | 1226 | 265 |
 Our road from and between the Kaiinanga Hill to the end of the Tikapa and Awanui Roads is often unsafe and inaccessible, especially in the wet months.   Whānau still live in that valley, and people travel in and out daily for work, for school, or to visit other whānau. We are often not able to attend our marae hui. The Ambulance and Fire Services often can't attend emergencies there.   We are asking that the Gisborne District Council repair the road.  No more short-term patch-ups.   We need our
Created: 2020-08-03
| Time period | All countries | New Zealand |
| --- | --- | --- |
| All time | 269 | 243 |
| 2021 | 269 | 243 |
In the last local government elections the residents of Tauranga Moana voted for a change in leadership at Tauranga City Council (TCC).  The residents voted for leadership that reflected the diversity in Tauranga. Acknowledging first Tangata Whenua and the principles of partnership, participation and protection outlined in the Tiriti o Waitangi.  Sadly there are some councillors and residents who do not want progress or the status quo to change.  This is evident in their opposition to  Māori War
Created: 2020-11-22
| Time period | All countries | New Zealand |
| --- | --- | --- |
| All time | 182 | 176 |
| 2021 | 182 | 176 |
 The decision to cancel mock examinations and study leave at Westlake Girls High School was one made without the input of the student body- the people that this decision effects the most. The value of practice examinations and study leave is monumentally more than that of only two more weeks of teaching time. This decision should be altered if the student body wishes it so. In this current climate, where there is so much uncertainty having our practice examinations is vital. Considering that man
Created: 2020-05-21
| Time period | All countries | New Zealand |
| --- | --- | --- |
| All time | 159 | 159 |
| 2021 | 159 | 159 |
ByHi I'm Renee I'm a mother of a 7 month old boy and a 12 year old dog. Renee's box is my business and vocation. Without warning the Sunday night 6 weeks ago, was sent a message on Facebook messenger saying  my frontage seating space was being taken from me. I managed to negotiate 6 weeks but that's up and in all honestly I'm distrought.  Update : Now I've been given a rediculous 4 weeks to move the entire business, if you've been inside you know thats alot for me to do, pretty much impossible
Created: 2020-05-23
| Time period | All countries | New Zealand |
| --- | --- | --- |
| All time | 166 | 150 |
| 2021 | 166 | 150 |
Many people including myself buy their meat at independent butchers rather than the supermarket. Now the butchers have been told they have to close as they are 'non-essential'.  We, the signers of this petition, disagree. It is unfair and makes no sense. A dairy and a greengrocer can open but a butcher next door cannot. Supermarkets shouldn't be given a monopoly on the sale of meat. See also: Coronavirus: Piles of meat to be given away, thrown out after butchers told they're not an 'essential bu
Created: 2020-03-27
| Time period | All countries | New Zealand |
| --- | --- | --- |
| All time | 120 | 119 |
| 2021 | 120 | 119 |
Petitions.nz
We provide free hosting for online petitions. Create a professional online petition by using our powerful service. Our petitions are mentioned in the media every day, so creating a petition is a great way to get noticed by the public and the decision makers.