NO COUNTRY FOR ELITE/SEXIST/RACIST WHITE MEN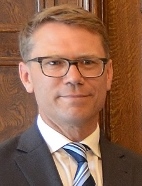 National MP, Paul Goldsmith, is an inadequate representive for our parliament and our people.  I believe he should apologise or resign - ideally both.
Paul is a descendant of Charles George Goldsmith, a migrant from Liverpool who settled in the East cape area early in New Zealand's colonial history. Charles Goldsmith had four wives—two Māori (Ngāti Porou), and two pākehā—fathering 16 children.
However Goldsmith has clarified that he is not himself of Māori descent, in fact, despite his Auckland Grammar education, he can't even pronounce the word properly, as was made apparent to the nation in his recent denial of his 'Mari' heritage. 
Yesterday's outburst requesting that our Prime Minister, Jacinda Adern 'stick to her knitting' was the icing on the cake.
In a world where sexism and racism has no place, please show your sentiments by signing this petition to have him removed from Parliament as an example to society that these kind of elite white men are no longer enabled or tolerated.
Sign this Petition
By signing, I authorize Mary O'Leary to hand over my signature to those who have power on this issue.
---
Is there something you want to change?
Change doesn't happen by staying silent. The author of this petition stood up and took action. Will you do the same? Start a social movement by creating a petition.
Start a petition of your own
Most popular petitions this year
MBIE have determined that golf course turf maintenance is not an essential service during the Covid-19 lockdown period. If critical parts of any golf course (namely putting greens) do not receive basic maintenance over the shutdown period, the task of restoring the greens to required standards/conditions may not be achievable or affordable for many golf clubs. The long term financial impacts for these clubs, and consequently for the many NZ'ers who enjoy the game, will be far reaching.   Please
Created: 2020-04-08
| Time period | All countries | New Zealand |
| --- | --- | --- |
| All time | 3658 | 3603 |
| 2021 | 0 | 3603 |
I have started this petition which will be presented to the Minister for Local Government. The Mayor and several councillors have pushed through policies  with little or no public consultation,the latest being the change of speed to 10kmh in the CBD .This was done by the Mayor using the Covid 19 argument it will be better for the public and reduce the risk of infection . This happened within a matter of days and the signs were already printed before the vote at council was done. This was also do
Created: 2020-05-17
| Time period | All countries | New Zealand |
| --- | --- | --- |
| All time | 2131 | 2119 |
| 2021 | 0 | 2119 |
COVID-19 shut down our sale yards but now we desperately need to have these re-opened, particularly in areas like Hawke's Bay where severe drought is having a major impact. Hawke's Bay farmers are currently facing what may be the worst drought in history, and the situation is compounded by the loss of the sale yards - an avenue of selling that the majority of farmers know well and have ultilised in the past. Other regions are also under significant feed pressure and would benefit from sale yards
Created: 2020-05-02
| Time period | All countries | New Zealand |
| --- | --- | --- |
| All time | 461 | 459 |
| 2021 | 0 | 459 |
We the residents of Ngunguru and the Tutukaka Coast petition the Whangarei District Council and Roading NZ to develop and establish pedestrian zebra crossings at 1983 Ngunguru Road as well as at the intersection of Ngunguru Road and Shoebridge Crescent.  These two crossing points already receive a large amount of pedestrian traffic, particularly at the start and end of the primary school day and require signage and a pedestrian right of way for the safety of our children and community members. A
Created: 2020-07-30
| Time period | All countries | New Zealand |
| --- | --- | --- |
| All time | 287 | 283 |
| 2021 | 0 | 283 |
This petition is to show support for the naming of the NorthConnex Tunnel after Jim Adams who lost his life during the construction of the tunnel on May 23rd 2017. To name this tunnel after a well respected man is a small token of appreciation for both the memory of Jim and his family.
Created: 2020-03-30
| Time period | All countries | New Zealand |
| --- | --- | --- |
| All time | 1226 | 265 |
| 2021 | 0 | 265 |
 Our road from and between the Kaiinanga Hill to the end of the Tikapa and Awanui Roads is often unsafe and inaccessible, especially in the wet months.   Whānau still live in that valley, and people travel in and out daily for work, for school, or to visit other whānau. We are often not able to attend our marae hui. The Ambulance and Fire Services often can't attend emergencies there.   We are asking that the Gisborne District Council repair the road.  No more short-term patch-ups.   We need our
Created: 2020-08-03
| Time period | All countries | New Zealand |
| --- | --- | --- |
| All time | 269 | 243 |
| 2021 | 0 | 243 |
Many people including myself buy their meat at independent butchers rather than the supermarket. Now the butchers have been told they have to close as they are 'non-essential'.  We, the signers of this petition, disagree. It is unfair and makes no sense. A dairy and a greengrocer can open but a butcher next door cannot. Supermarkets shouldn't be given a monopoly on the sale of meat. See also: Coronavirus: Piles of meat to be given away, thrown out after butchers told they're not an 'essential bu
Created: 2020-03-27
| Time period | All countries | New Zealand |
| --- | --- | --- |
| All time | 120 | 119 |
| 2021 | 0 | 119 |
Hello people, We are currently trying to find a way to get a permit to have our seats on the berm strip outside Crumb. Getting people to sign a petition is a great step to helping us achieve this, if you want to support then please put your name down! If you have any questions please come in and ask, see you at Crumb!
Created: 2020-07-29
| Time period | All countries | New Zealand |
| --- | --- | --- |
| All time | 100 | 100 |
| 2021 | 0 | 100 |
LAKE OTAMANGAKAU CHALLENGING TIMES AHEAD On Friday 17th July 2020, the Department of Conservation (DOC) invited interested parties of Anglers of Lake Otamangakau to attend an open meeting to discuss some issues that are of concern to DOC regarding the future of Lake Otamangakau. The main concerns discussed were the alarming rise in fish mortalites in the Lake during the hottest part of the summer.  Also discussed was the practice of catch and release throughout after extensive tests were carried
Created: 2020-08-16
| Time period | All countries | New Zealand |
| --- | --- | --- |
| All time | 88 | 66 |
| 2021 | 0 | 66 |
Dear community,  Update: Thank you to everyone that has signed this petition, unfortunately all of the trees have been cut down now. I did however send this petition to council yesterday prior to the last few trees coming down. Help save the trees, some of them native found on the old Bartlett farm. On Friday we were notified that all remaining trees at 25 Bankside Road Silverdale are scheduled to be cut down within the next 2-3 weeks. Some of the trees on the property are natives, Rimu, Tokara
Created: 2020-07-25
| Time period | All countries | New Zealand |
| --- | --- | --- |
| All time | 63 | 63 |
| 2021 | 0 | 63 |
Petitions.nz
We provide free hosting for online petitions. Create a professional online petition by using our powerful service. Our petitions are mentioned in the media every day, so creating a petition is a great way to get noticed by the public and the decision makers.