Preserve the Eskdale Park in the Esk Valley Napier

Contact the author of the petition
My Voice My Choice Survey
2021-04-22 08:04:43
Hi Everyone
Thank you for your support of Eskdale Park. The Reserve Management Plan process is continuing for the park. The first step of the process is the My Voice My Choice survey which has been running for some weeks now.  The survey ends tomorrow, Friday April 23rd. Which means that tomorrow is the last day to fill out a survey.
If you have not filled in a My Voice My Choice survey for the Eskdale Park please please please consider doing so. It only take a few minutes to complete the survey online. Just please be very careful of how you answer question 13 on the online form. As it is basically the HBMTBC conceptual drawing in a survey form. (So much for their plan/drawing being off the table as HDC and the Mayor has led us all to believe). Gee Whiz.
If you need help filling out the survey please reach out to us.  Our email address is saveeskdalepark@gmail.com
Here is the link for the My Voice My Choice survey form online. https://www.myvoicemychoice.co.nz/hdc/reserve-management-plans/eskdale-park/
THANK YOU VERY MUCH. Together we can preserve Eskdale Park for all people for all time, the way Thomas Clark envisioned it to be. 
Friends of Eskdale Park
Trina Bergloff-Howes
Eskdale Park Community Information Day
2021-03-30 07:17:48
Hello Everyone, 
Thank you for supporting Eskdale Park. Come along and visit with Friends of Eskdale Park. We will be in the park on Easter Friday (April 2) and Saturday (April 3) from 10 am to 1 pm. Bring a picnic, the kids and the dog and join us for a picnic and information day 🙂. Or just come along to chat with us to find out some information regarding Eskdale Park. 
Come experience the beautiful Eskdale Park. We will have open discussions with true factual information available to share with the community. The purpose of this event is to share the information that Friends of Eskdale Park have discovered regarding the proposed development of Eskdale Park.
We will be there to talk to people about it with honest communication, truth and transparency so that the community is informed as to what is going on with our beloved Eskdale Park. 
We are looking forward to seeing you all there 🙂
Friends of Eskdale Park 
Trina Bergloff-Howes
Eskdale Park Update 2021
2021-03-14 19:38:58
Thank you very much for signing the Eskdale Park petition and for showing your support for the park. It has been a while since we reached out to you about Eskdale Park and it's future. Not because we have stop fighting for the park but rather because we have been hard at work finding out everything we can about the Hawke's Bay Mountain Bike Club (HBMBC), Hastings District Council (HDC), and Pan Pac's plan to convert Eskdale Park into a mountain biking hub. We have also been busy setting up a non-profit incorporated society to protect and preserve the park.
In November 2020, we voted to support the HDC in making a Reserve Management Plan (RMP) for Eskdale Park. The RMP is a specific set of guidelines and rules that will set out the usage of Eskdale Park. This process has now begun, and we need your help! The first round of public consultation is open now, and closes on Friday 23 of April 2021. 
There are 3 ways you can have your say in the RMP1. Send an email to rachels@hdc.govt.nz. Write and post a letter to Attn: Rachel Stuart Hasting District Council Private Bag 9002 Hastings 41563. Drop a letter in to the HDC offices Attn: Rachel Stuart We have put together some suggestions on how to write a submission at the bottom of this email.
If you want to stay in touch with developments, we have a Facebook page you can follow facebook.com/eskdalepark, and eskdalepark.co.nz where you can find out more information and sign up for newsletters and updates.
So far we've been funding the costs of protecting and preserving Eskdale Park ourselves (printing flyers, advertising, historical and land title research, website hosting, etc), but in order to raise awareness of what is going on, and to reach as many people as possible, we are going to need your help. 
We've set up a Give a Little page where you can donate givealittle.co.nz/cause/eskdalepark, and if you aren't able to contribute, it would be a huge help if you could share the Give a Little page with others.
All funds will be paid to Friends of Eskdale Park Incorporated (the registered non-profit organisation we've set up), and used to directly help Eskdale Park. You can read more about this on our Give a Little page.
There is an open day on Saturday the 20th of March, 2021 at Eskdale Park. HDC will be there to hear what you have to say. In addition, Friend of Eskdale Park will be there as well. So please stop by and show your support for the park. 
Since we are all passionate about keeping our beautiful safe family friendly Eskdale Park please consider joining us. We all need to come together in our efforts to keep the park from being coming a sealed car park or commercialized. Time is of the essence as we move through the Reserve Management Plan process. So please consider joining us.
---
Submission template – Here is an idea of what to include in a submission to the Hastings District Council 
Who is it to, i.e. Hastings District Council 
Name of submitter – This is where you write your name and details 
What is the submission about – This is where to list the submission for Eskdale Park 10 year management plan
Disclosure of any conflict of interest – This is where you mention any personal, material or commercial interest in the outcome of the proposal. For instance if you or your family member provide services to Eskdale Park
Submission – Here is where you get to have your say about the park. What you like, what you do not like and how you would like the park to be in the future. Please be specific in this section. 
State what you want the council to do or outcome you want – In this section specialty state, what you want or what you do not want. State specially what actions or action you want the Council to take. This is the closing argument for your submission. 
I wish or I do not wish to be heard in support of my submission – In this section you will indicated if you want to speak before the Council in support of your submission. When the Council calls for formal submissions to be presented, if you want to, you will be given the opportunity to speak regarding your submission. 
Signature of submitter- Sign your legal name to acknowledge this is your submission 
Your submission can be emailed to Rachel Stuart at rachels@hdc.govt.nz and or spoken to at the Hasting District Council open days when they are held at Eskdale Park. The Council will advertise the dates for the open days. There will also be Council forums for submissions, dates for these will be advised. 
Trina Bergloff-Howes
Confirmed Public Feedback Meeting Eskdale Park
2020-09-22 05:19:45
 Hi Everyone, 
Just a reminder here. There is a public feedback meeting to discuss future plans for Eskdale Park with Hastings District Council. The meeting has been confirmed by HDC. It will be this Thursday, Sept 24th from 6 to 8 pm. The meeting will be held at Hukarere Girls College, in the gymnasium, at 17 Shaw Road, Eskdale
As many of you know, this public feedback meeting has come about because HDC presented a concept proposal to create a mountain bike hub at Eskdale Park. Which as presented would dramatically change Eskdale Park. There is also large growing support to keep the park as a safe family friendly reserve. Please come to the meeting to show support for the park and to have your say. It is important for HDC to hear the community. It is from the feedback that HDC will create future plans for Eskdale Park. Both the Mayor and Deputy Mayor of Hastings will be present at the meeting. Which is great because they can hear first hand just how important Eskdale Park is to so many people. 
There is also an online HDC feedback form available on My Voice My Choice, although the feedback form is not transparent about the mountain bike hub proposal, it still gives you an opportunity to have your say. You can access the online feedback form from the below web address/link
If you would like more information or details please message me or check out the eskdalepark.org. 
Save Eskdale park
Thank you everyone!


Trina Bergloff-Howes 
Trina Bergloff-Howes
Eskdale Park meeting postponed
2020-09-06 06:46:51
Hi Everyone.
Meeting Update -- Just wanted to let you know that the public feedback / consultation meeting for Eskdale Park on Sept 9th has been postponed by the council, due to COVID alert level 2. The meeting has been rescheduled to Thursday, Sept 24th from 6 to 8 pm at Hukarere College gymnasium. Located at 17 Shaw Road Eskdale.
There is also a HDC My Voice My Choice feedback form available for people to submit their feedback regarding Eskdale Park. Please consider filling in the feedback form as this is a wonderful way to have your say as to what will happen to Eskdale Park and to show your support at keeping the park as a safe family friendly green reserve. Here is the link to that form.
https://www.myvoicemychoice.co.nz/hdc/eskdale-park/
Lets keep shouting to the council that Eskdale Park is a treasure worth protecting. I look forward to seeing and meeting you all at the new scheduled meeting on Sept 24th
Kind regards
Trina 
Trina Bergloff-Howes
Eskdale Park Meeting Sept 9th 6 pm
2020-08-25 02:48:47
Hello Everyone, 
My heartfelt thanks goes out to each one of you who has signed the petition to protect the Eskdale Park. Thank you so much for your support. Just a reminder, that the public meeting between the community and the Hastings District Council will be held on Wednesday, Sept 9th from 6 pm until 8 pm at the Hukarere Girls College located at 17 Shaw Road, Eskdale. 
Please come and show your support for making the Eskdale Park a green reserve. It is vital that we make it clear to the council that we want the park left as a safe green family friendly park. The park has such a rich history and is loved by so many people. It is worth protecting and keeping safe for future generations to enjoy. 
The council will be at the meeting with a whiteboard for everyone to write down their ideas and thoughts about the park. After the meeting the council will come up with a proposed plan for the park based on the ideas we write down and express. So this meeting is super important to let the council know our thoughts.
I can help organize carpools or rides if people wish. Please reach out to me if you need a ride or would like to carpool or if you would like to help in any way. Together we will protect the Eskdale Park. 
My number is 021-141-2393. You can also email me at saveeskdalepark@gmail.com
Thank  you 
Trina Bergloff-Howes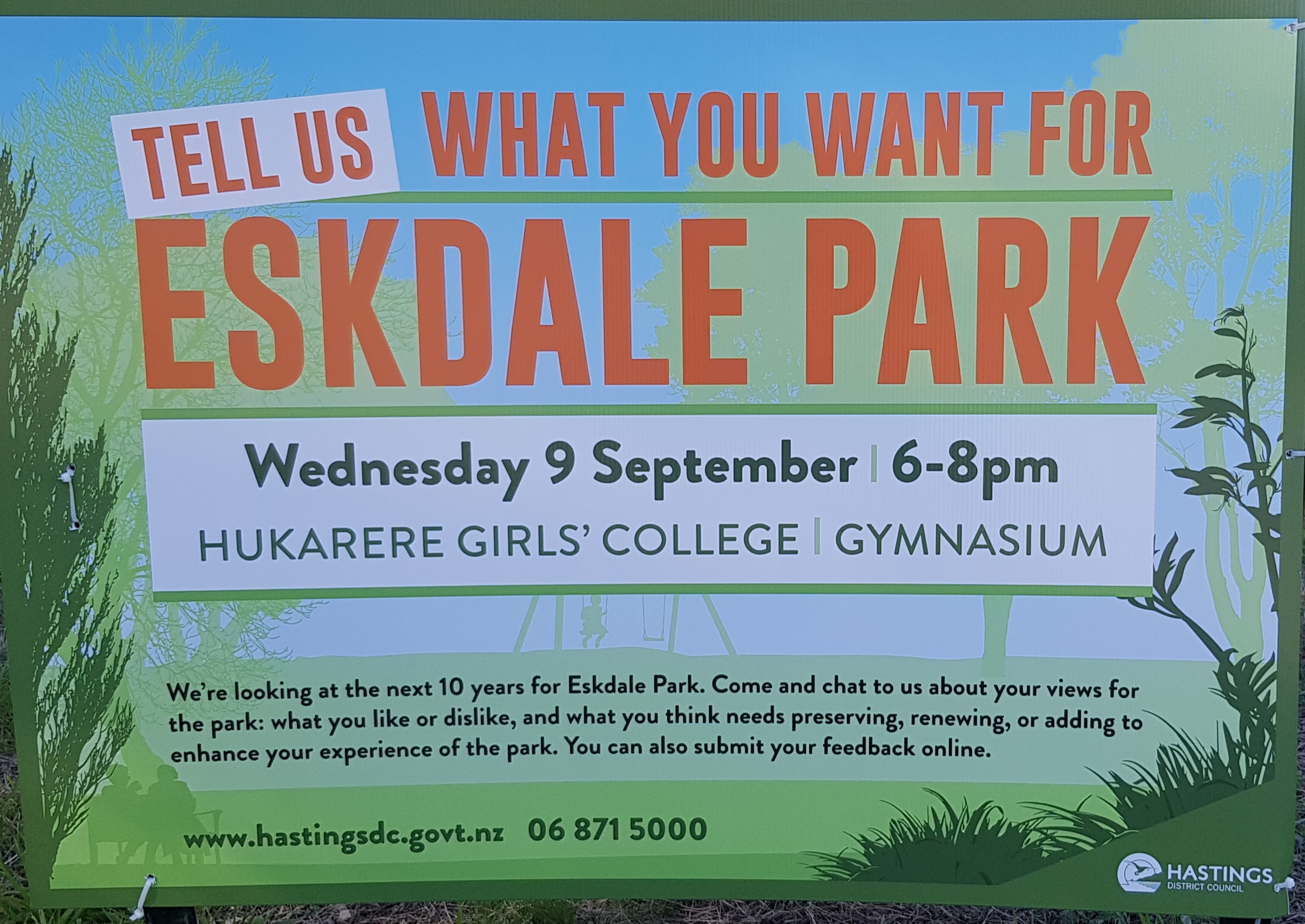 Trina Bergloff-Howes
Eskdale Park Update
2020-08-14 10:55:24
A huge thank you for your support and signatures. Your voices have been heard and there will be a public consultation with the Hastings District Council on Sept 9th from 6 pm to 8 pm at the Hukarere Girls College. Located 17 Shaw Road Eskdale. 
click here for map.
Now is the time for us to step up and express our views on how the Eskdale Park will look in the future. This is our opportunity to voice our belief that the park should remain as a rural peaceful protected park. 
Submission to the HDC can be submitted after the Sept 9th meeting. We will send you the link to the council submission page after the meeting. The council will also accept letters and emails.
Thank you for your help. This meeting with the council is vital to saving our beloved park which is a treasure to so many people. Please tell us if you need a ride or can offer rides to the meeting.
The meeting is depended on Covid 19 alert levels and if needed will be postponed.
Sincerely
friends of Eskdale Park 
Trina Bergloff-Howes